The Little Star That Could
PG | 40 min. | Educational Planetarium Show
Periodically on show schedule; available for group bookings
The Little Star That Could is a story about an average yellow star on a search for planets of his own to warm and protect. Along his way, he encounters other stars, learns what makes each star special, and discovers that stars can combine to form clusters and galaxies. Eventually, Little Star finds his planets, and each is introduced to audiences along with basic information about the Solar System.

This program sponsored in part through COCA's Cultural Grant Program funded by the City of Tallahassee and Leon County. Your ticket purchase supports the Challenger Learning Center's community outreach and educational programming.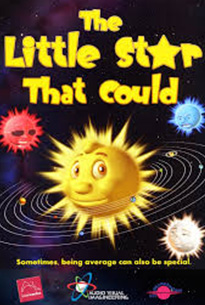 Open from 10am to 10pm

12pm to 10pm Sundays
Closed Thanksgiving Day and Christmas Day
The Challenger Learning Center is located on the beautiful Kleman Plaza in Downtown Tallahassee.