Employment Opportunities
The Challenger Learning Center of Tallahassee is looking for a few "out of this world" people to join the team! 
To apply, send cover letter and resume to Bonnie Halsell at bhalsell@challengertlh.com.
Education Staff
The Education Staff at the Challenger Learning Center must possess knowledge of and/or the desire to learn and share their knowledge in STEM subject areas. Members of the Challenger Learning Center's Education staff work closely with all center management and staff to facilitate the education process. We currently have openings for individuals with elementary education and middle school backgrounds as well as those with STEM knowledge. Those seeking degrees in elementary education, secondary education, or STEM fields or seeking experience in these areas are also encouraged to apply.
 Preference will be given to individuals with the following:
        Experience working with children in a formal or informal educational setting
        Knowledge or desire to learn STEM subject material
        Proficiency in educational pedagogy
        Able to work effectively with coworkers and management
        Outgoing and energetic personality
        Public speaking skills
 Primary responsibilities may include but are not limited to:
        Facilitating hands-on science activities for grades K-8
        Facilitating space mission simulations
        Implementing classroom and camp programs
        Performing various science demonstrations for grades K-8
        Facilitating

Saturday

Science Programs
        Assisting with weekend birthday parties
Must be available a minimum of two days a week from 9:00am to 2:00pm and willing to work occasional evenings and weekends, and holiday breaks. Training will be provided for all programs.
To apply, email your resume to Bonnie Halsell bhalsell@challengertlh.com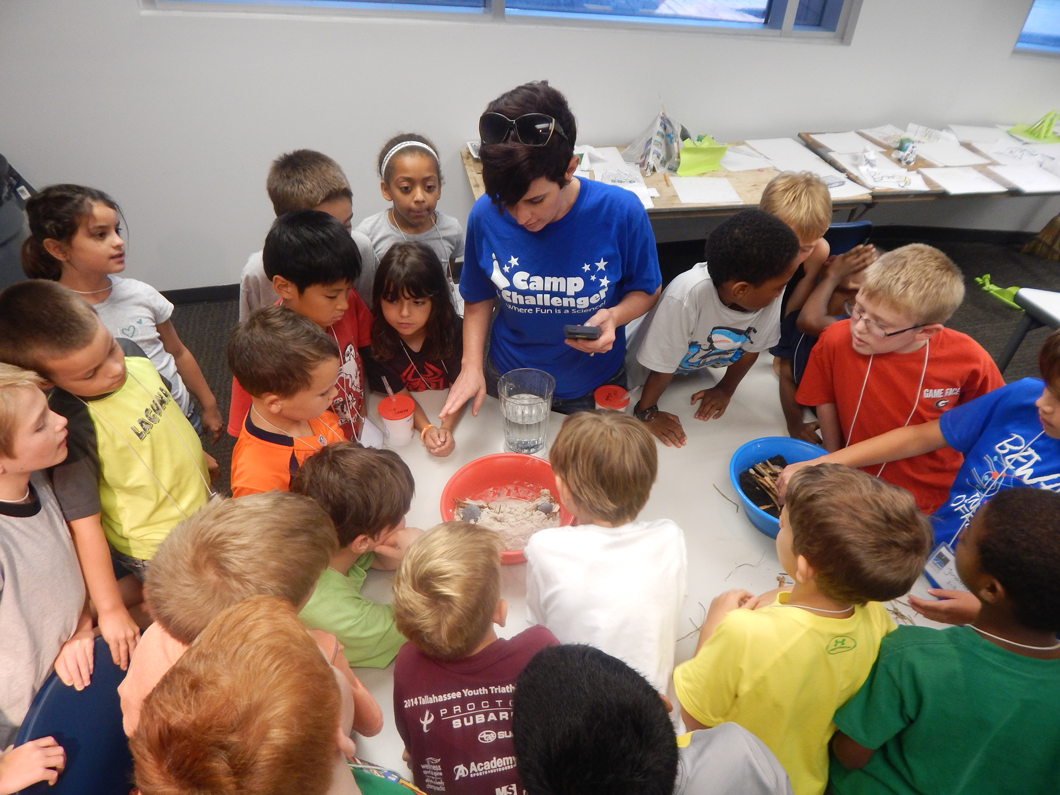 Guest Services Staff
The Challenger Learning Center of Tallahassee is looking for Guest Services staff to facilitate the operations of the Center, including IMAX Theatre and Planetarium box office, concession stand and gift shop. As a member of the Challenger Learning Center's Guest Services staff, you will be a part of the team that makes sure the Center runs smoothly so that every single guest enjoys their visit.
The responsibilities of the job include, but are not limited to:
· Greet all guests entering the lobby and directing them to their seats in the theatres.
· Serve fresh, appetizing and properly prepared food and beverages in the Center's concession stand.
· Assist customers shopping for souvenirs in the gift shop.
· Greet all customers in auditorium entrance and assist them with entertainment choices for their visit.
· Make all speeches as necessary for entry, welcome, exit or theatre intermission.
· Prepare/Count inventory for concession and gift shop items for resale
· Process all ticket sales for the IMAX Theatre and Planetarium.
· Answer guest services phone line and assist customers.
All employees in this position are expected to be customer satisfaction experts and must also contribute to the Center by maintaining a clean and pleasant environment for all who visit.
All Employees of the Challenger Learning Center must possess:
· Exceptional work ethic
· Dedication to excellence in any and all tasks assigned
· Commitment to Customer Satisfaction
· Timeliness
· Unconditional positive attitude toward customers, team members and those in authority
· Adherence to dress code and well-groomed appearance
· Level 2 background check is required
To apply, email your resume to Bonnie Halsell bhalsell@challengertlh.com
or
Students, Alumni and Employees can apply through Nole Network https://www.career.fsu.edu/nolenetwork.
Planetarium Instructor
The Challenger Learning Center of Tallahassee is looking for Planetarium Instructors to help with public and private events and hands-on activities for K-12 school groups. These events involve activities that supplement planetarium programs and teach astronomical concepts. We are looking for someone who can lead activities for groups of up to 128 students. As some school groups might not have been introduced to astronomy before, being able to communicate complex astronomical concepts at an introductory level is strongly preferred. Other tasks might include operating telescopes for star viewing events, setting up and running activities for public events, and providing A/V assistance for planetarium rentals. Hours will vary depending on the planetarium schedule.
The responsibilities of the job include, but are not limited to:
Operate digital audio and visual and computer to present Planetarium shows, which include night sky tours and answer questions for customers (including school groups grade K-12)
Assist Theatres Manager with the maintenance and operation of planetarium equipment which includes: a full dome digital projection system, sound system, cove lighting system, etc.
Assist Theatres Manager with digital show presentations
Other duties as assigned in the Planetarium facility
Must have knowledge of:
Basic telescope use to view the night sky
Star types, star names, constellation identification, and celestial motions
Some image manipulation software and techniques
Basic computer skills
Good speaking and presentation skills
Interpersonal skills including enthusiasm and patience
Must have ability to:
Clearly describe astronomical concepts to audience members of all ages
Communicate effectively with large crowds including young children
Troubleshoot basic electronic problems
Work under time constraints and unexpected equipment malfunctions
Accept and assimilate constructive criticism regarding presentation skills and student interactions
Minimum Qualifications
Knowledge and understanding of Astronomy and Space Science, including knowledge of the night sky. Basic understanding of audio and video equipment, signal flow, and cabling
Helpful Qualifications:
College coursework in Astronomy
Knowledge of some deep sky objects and some mythology
Knowledge of astronomy and science history
Knowledge of historic and recent developments in space travel and exploration
Public speaking experience
Planetarium experience
Experience operating digital planetarium theatre software (e.g., Sky Skan's DigitalSky)
Knowledge of the fundamentals of computer programming
Experience with computer scripting
Experience with photography and Photoshop
Environment:
Lighting variations include total darkness, dim lighting, very bright lighting, strobe lights and diurnal motion during Planetarium shows and night sky tours
Loud music or explosive video special effects (on occasion)
Physical Abilities:
Hearing and speaking to exchange information
Dexterity of hands and fingers to operate assigned equipment
Bending, flexing, moving moderately heavy equipment
To apply, email your resume to Bonnie Halsell bhalsell@challengertlh.com