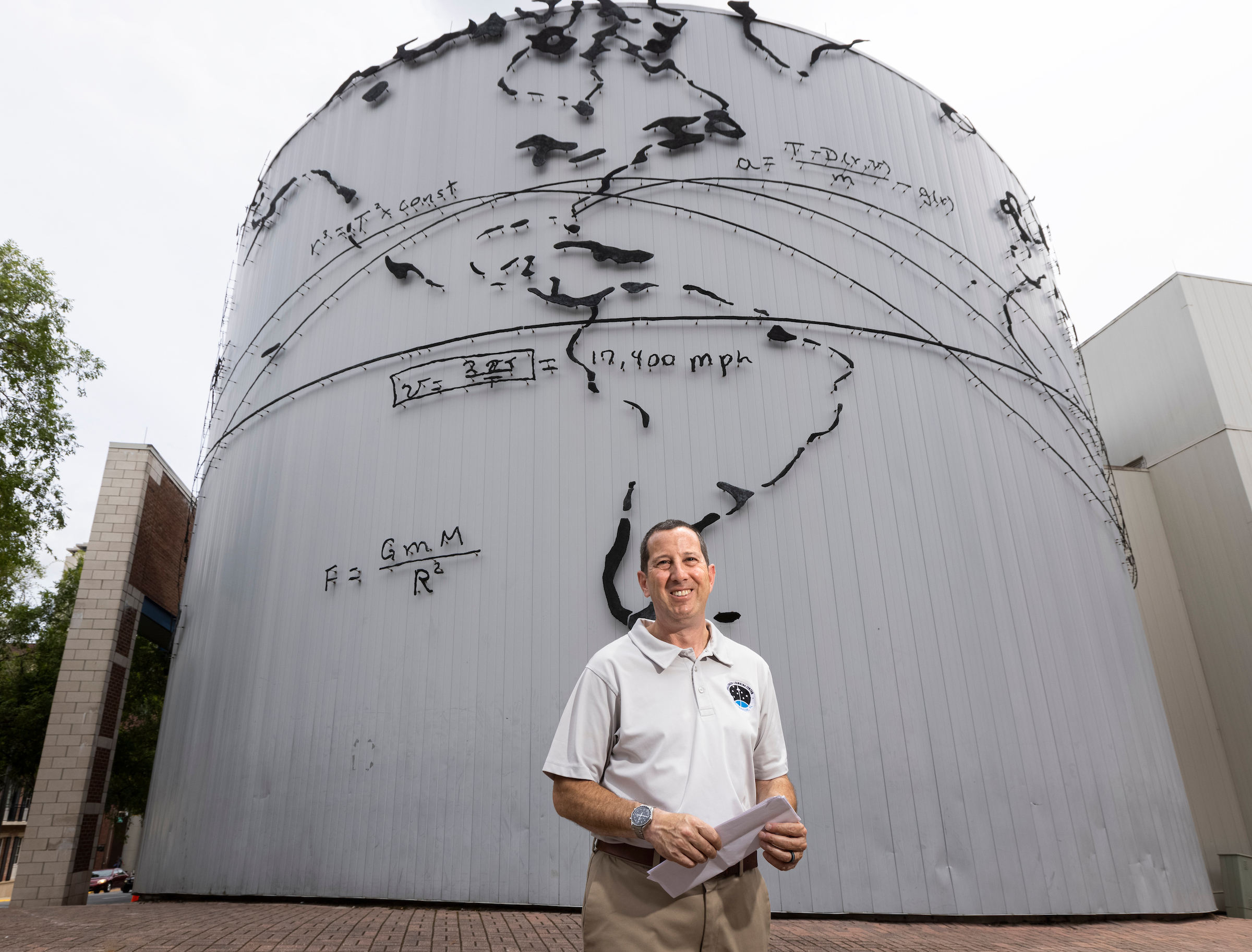 Welcome Our New Executive Director!
Longtime board member and Challenger Learning Center advocate Alan Hanstein is the executive director for the Challenger Learning Center of Tallahassee as of June 10, 2022. He will be responsible for all aspects of center operation, including its IMAX Theatre, Planetarium Theatre, Camp Challenger, educational school programs (field trips), lecture series, public programs and more.
"I am beyond excited for the opportunity to lead the Challenger Learning Center of Tallahassee into the future and to work with our incredible staff who are inspiring the next generation of engineers and explorers," Alan said.
Most recently, Alan was partner and director of Business Development at Event Owl, LLC, a developer of hybrid/virtual event apps for state and national associations. He has more than three decades of experience leading successful technology companies. Active in the community, Alan serves on several non-profit boards, including Making Awesome, Tallahassee's Makerspace and Moonshot Florida. He served on the boards of Florida State University Schools and Knight Creative Communities. He is a Jim Moran Institute Fellow.
Alan lives in Tallahassee with his wife, Amy. They have two adult children, both of whom grew up visiting our center frequently.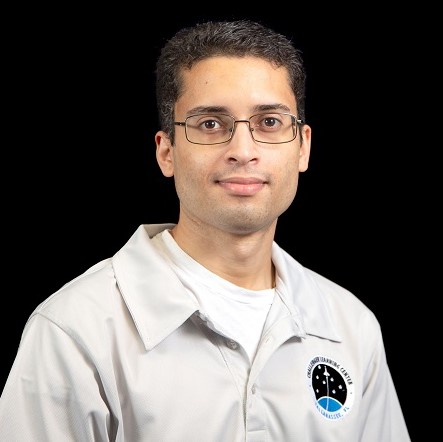 William Figueroa, Education Manager

william.figueroa@challengertlh.com
850-645-7773
William Figueroa first joined the Challenger Learning Center as a part-time Education Staff member in February 2014 before rising to the part of Education Manager. He is certified to teach in both Georgia and Florida, previously teaching science classes at CA Gray Jr. High and Thomas County Middle School. As a Leon County Schools teacher, William also serves as the liaison for the Challenger Learning Center to Leon County Schools.
During the Covid-19 pandemic, William programmed and designed the virtual mission "Europa Encounter" that was used nationwide, from Alaska, Maine, Massachusetts, Illinois, Indiana, New Mexico, and Texas. He has also developed and led various camps for Camp Challenger and education programs taught on site at Leon and Hamilton County. Native from Puerto Rico, he is bilingual in English and Spanish and has a degree in Middle Grades Science and Social Studies.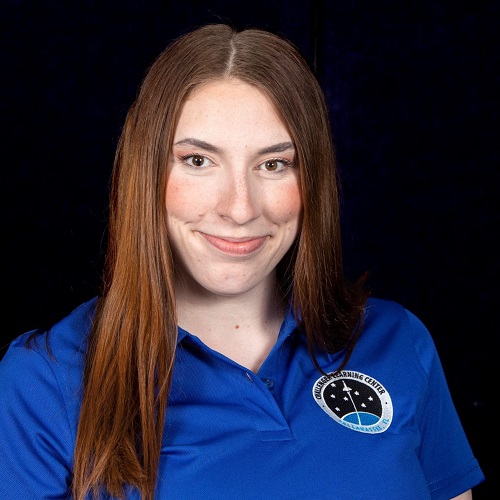 Jordan Doucette, Education Manager

jordan.doucette@challengertlh.com
850-645-7787
Jordan Doucette joined the Challenger Learning Center in August 2021. After living in Wisconsin, Massachusetts, and Oklahoma, she graduated with a Bachelor of Science Degree from the University of North Texas. She then moved on to teach Elementary public-school education in Oklahoma City and surrounding areas.
Jordan attributes her devotion for education to her family, who are also involved in the public educational field. She has taught STEAM Education through summer camps and educational programs designed to reach underfunded communities in Oklahoma. The first class Jordan taught was an Astronomy class and is what drove her to become an educator. Her passion for Astronomy shines here at the Challenger Learning Center. Jordan serves as our education and outreach liaison for the Challenger Learning Center and its neighboring communities.
She loves to spend time with her family, which includes her pets that are named after astronomers and astronauts. (Tycho, Hubble, Mae Jemison, and Buzz).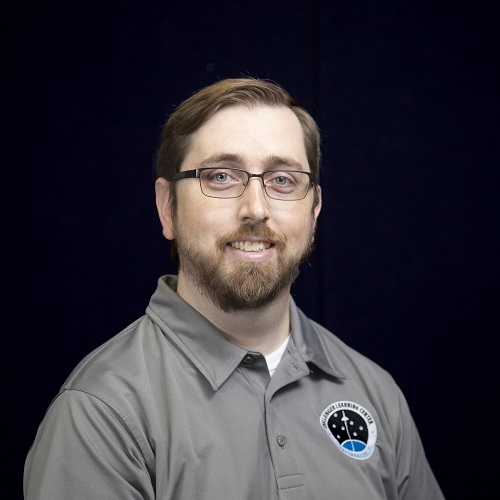 Robert Berg, Business Manager
850-645-7779
Robert Berg joined the Challenger Learning Center team in August of 2021 as the Business Manager. Rob is responsible for all financial activity at the Center, including serving as the procurement representative, managing accounts payable functions, serving as the budget manager for the auxiliary fund, generating reports for the Board of Directors and external parties, maintaining the financials in Quickbooks, serving at the Contract Manager, as well as making financial projections and recommendations. Before joining the Challenger Learning Center, Rob worked within the University Business Administrators Program at FSU where he served as the Administrative Specialist for the Department of Art for over 13 years. A Tallahassee native, he attended Lincoln High School (go Trojans) before attending the University of Central Florida where he received a Bachelors in Economics and Finance. In his free time, Rob loves watching movies, all things animals, and spending time with friends & family.
Reed Lambdin, Theatre & Operations Manager

850-645-7778
Reed Lambdin was born in Indiana but was raised in Tallahassee. Reed has spent the last 28 years working in the motion picture industry and came to the Challenger Learning Center in 2005. Reed completed a month-long training in Canada to become one of the few Certified IMAX SPP Technicians. His responsibilities include operation and maintenance of the IMAX and Planetarium equipment and theatre, inventory maintenance, data reporting and tracking, daily revenues, I.T., as well as building and equipment upkeep and set-up.
Bonnie Halsell, Office Manager

850-645-7771
Bonnie, who has a twin sister, grew up in West Orange, NJ, and received a Bachelors Degree in Business Administration from Boston University. After living in Georgia and Ohio, where she held management positions in operations and HR, Bonnie settled in Tallahassee with her family to pursue her career. One of Bonnie's two sons, currently living in San Francisco, was an original employee of Wikipedia, while her other son has an active practice in Tallahassee as a financial advisor. When not working in the Challenger program, where her varied responsibilities include HR administration, Bonnie enjoys spending time with her two granddaughters.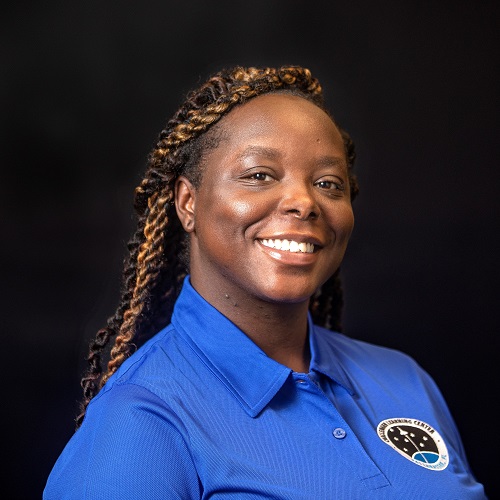 Marvetta Castle, Sales Coordinator

850-645-7777
Marvetta Castle was born and raised in Fort Lauderdale, Florida before moving to Tallahassee to attend the Florida State University. After graduating from the Dedman School of Hospitality, Marvetta went on to work in the tourism & events industry of the nonprofit sector before joining the Challenger Learning Center of Tallahassee team as the Sales Coordinator.
As her degree would suggest, Marvetta has a passion for service and strives to curate the best experience possible for every event she works on. This passion bleeds into her role at the Challenger where she is responsible for the booking and logistical coordination of field trips, facility rentals, and special events.
Marvetta enjoys solving puzzles, discovering new music, dancing, and going on spontaneous adventures. Though she isn't near her human family, she spends lots of time with her fur baby, Agua.
Greg Rothwell, Guest Services Manager

850-645-7780
Gregory Rothwell accepted the position as Guest Services Manager for the Challenger Learning Center in October 2021. Responsibilities include managing all aspects of Box Office, Concessions, and Gift Shop operations. In addition, coaching and developing a staff of 12 people to provide a superior customer service experience for those visiting the Challenger Learning Center.
Gregory is multi-faceted and has over 30 years of management experience. He began his career in the military serving in the United States Air Force for 20 years and retiring. Upon departure from the military, he entered the business world in mobile wireless communications, working his way up from sales representative to retail store manager for companies such as Sprint, T-Mobile, and AT&T for eight years. This set the stage for the next level in his career as a Multi-Unit Loss Prevention Manager for the Department of Defense, Tyndall AFB for seven years responsible for programs and operations of six facilities and 100 employees, including Safety, Security, Training, Auditing, and Investigations. While serving at Tyndall AFB, Gregory was recognized for his accomplishments by his peers, which led him to be selected by the President of Loss Prevention to serve and deploy to the war zone on special assignment in support of Iraqi Freedom and Iraqi New Dawn for two years. Upon completion of this assignment, he volunteered and was selected to deploy to Eastern Europe in support of NATO Operations in Kosovo-Bosnia for nine months as a Security and Safety Manager.  Upon return to the United States, he moved to Tallahassee and entered the university system working as a Veteran Administrator for Tallahassee Community College. Subsequently, he transferred to Florida State University, working in the IT Department for four years.  Gregory has an Associate's degree in transportation and record of volunteering. He served as Entertainment Chairman for the Fort Walton Beach Chamber of Commerce for three years and treasurer for a non-profit organization. In his spare time, he loves to spend time with family, play Xbox Games and travel.
Allyson Watson

Dean, College of Education, Florida A&M University
Dr. Allyson L. Watson serves as dean for the College of Education at the Florida Agricultural and Mechanical University. Prior to her arrival at FAMU, Dr. Watson served as interim chief academic officer and dean at USF St. Petersburg, and at Northeastern State University assistant dean and the first named endowed chair. Her educational background includes a master's (M.Ed.) and doctoral (PhD) degree in educational administration, curriculum and supervision from the University of Oklahoma. Her baccalaureate degree is from Bethune-Cookman University in Elementary Education. Dr. Watson served as assistant director at the University of Oklahoma-Center for Educational & Community Renewal (now K-20 Center). Additionally, her educational career and experience include teaching 1st-8th grade in urban areas. Dr. Watson has focused her research on urban education, faculty of color in higher education, and urban school and university partnerships. She is a full professor and tenured graduate faculty with a substantial amount of teaching experience in courses such as educational research, advanced educational measurements and statistics, public school relations, and instructional strategies.
Jon Brown


With a background in Civil and Software Engineering, Jon began his more than 20-year journey in technology and communications with training at the Kennedy Space Center in central Florida and the Jet Propulsion Laboratory in Pasadena, California. Those experiences led to the co-founding of Midnight Online in 1996, a college-born technology startup that transitioned in 1999 into The Midnight Group, an award-winning, full-service integrated marketing and creative solutions firm working with a client roster that included NASA, HBO, the Wharton School of Business at University of Pennsylvania, the University of Michigan, the University of Minnesota, Rainforest Films, and Roy Jones, Jr. In addition to Midnight, he and his team launched HEAVY., a multicultural marketing communications unit that focused on creative and technical solutions for underrepresented and emerging markets. Jon is also a founder of the North Florida Multicultural Marketing Symposium and the Multicultural Marketing Student Forum, a previously held annual event that presented national speakers and facilitators with expertise in and real-world successful solutions of the African American, Hispanic, and Asian American markets.
Jon has served as a member of the Board of Directors for the Fourth District of the American Advertising Federation (AAF), where he was twice appointed by the Fourth District Governor as the District Diversity Chair, responsible for 24 local clubs throughout the state of Florida and the Caribbean. He also served the State of Florida Digital Divide Council as a Subject Matter Expert on the Technology Resource Partnerships and Community Outreach subcommittee.
He served Leon County Government as the Director of Community and Media Relations for 7 years, and Gadsden County Government prior to that as their first Public Information and Intergovernmental Relations Director for 2.5 years. An honors graduate of Florida A&M University, Jon is a strong proponent of creative marketing, economic independence, entrepreneurship and empowerment, and he has lead many seminars and workshops for youth development to assist in the perpetuation of such ideas. Most importantly, he is a blessed husband and proud father of three boys; 12, 10, and 5 (into everything; yikes!). In his spare time, which is limited, Jon runs, swims, and is in constant motion of figuring out how to better shoot rockets off the roof.
Jon and his wife, Letitia, launched Browns Consult, LLC, a communications and marketing consultancy, in October 2015. He, also, joined The Zimmerman Agency and BRIGHT RED\TBWA as a consultant in November 2015 and, then, started January 2016 off with a bang by serving in a full-time capacity as their Director of Digital Production through a successful website launch of a international Quick Service Restaurant (QSR) brand in July 2016.
Recently, Jon, Letitia, and a small, but powerful planning team, which includes two-time Grammy winner, jazz trumpeter, and current director of The Legendary Count Basie Orchestra Scotty Barnhart, hosted a successful inaugural Florida Jazz & Blues Festival at the Capital City Amphitheater in Cascades Park of Tallahassee, Florida in September 2016, followed by the 2nd annual event in October 2017. By leveraging creative marketing, targeted outreach, global contacts, and local legendary historical context, they began a journey, as Barnhart noted, to "make this one of the premiere festivals in the world." What started as a vision of Celebrating and Elevating a Culture of Live Music, resulted in twenty acts over three days in 2016 and ten acts over two days in 2017; both years featuring world-class artists. Jon served as a Community Servant and Event Director for the festival, spearheading the efforts of communications, marketing, logistics, contracting, lodging, event production, and networking. He, also, led the fundraising charge of this community campaign, which delve into creative financing through community partners in local government, the corporate/private sector, and individual patrons for the approximately quarter of a million dollar event in its inaugural year.
In addition to consulting, Jon is currently working on the launch of the Black Men's Health project; an initiative, laser focused on balance through health in men of color, that he has been cultivating since 1999. A seed planted, twenty years in the making. It is now time to bring this project to fruition.
Robert Bryson

Principal Business Relationship Manager with Wells Fargo Commercial Bank
Robert Bryson is a Principal Business Relationship Manager with Wells Fargo Commercial Bank. An 18-year veteran in the financial services industry, knowledgeable in all aspects of banking, with primary expertise in credit working for top tiered banks. Robert is also experienced in private equity, buy/sell transactions, portfolio management and trading of equities. Before transitioning into financial services, Robert spent five years helping to establish and run a publishing business, and understands the nuisances of general management of companies. Robert has an economics degree from Hampden-Sydney College and a MBA from Florida State University. He enjoys spending time with his wonderful family and enjoys the outdoors with fishing, golf and hunting being his preferred activities. His belief centers on learning never stops, and understanding the "hows" and "whys" are the bedrock to furthering yourself and others.
Todd Clark

Senior Research Analyst, Office of Program Policy and Government Accountability, Florida Legislature
Todd Clark has been a senior research analyst for the Office of Program Policy and Government Accountability for the Florida Legislature since April 2019. Previously, Todd served as the Director of Office Articulation for the Florida Department of Education. As the Director for the Office of Articulation, he was responsible for the seamless transfer of credit for student work between Florida's K-12 system, state colleges, and state universities. The office serves as a student advocate for dual enrollment, credit by examination, and 2 + 2 agreements between Associate Degree and Baccalaureate Degree programs. From 2014 to 2016, Todd was the bureau chief for Education Information and Accountability Services with the Florida Department of Education. As the chief for EIAS, he was responsible for the data collected by the FDOE from all K-12 school districts related to public school students and staff.
Danielle Buchanan

Marketing Director, Health Systems / Quest Diagnostics
Danielle Buchanan migrated to the Capital City for warmer weather after earning degrees in Economics and Psychology from the University of Vermont. During her successful marketing career, she has supported clients throughout the country at The Zimmerman Agency and advanced the brand perception of Tallahassee Memorial HealthCare across a broad region. Currently, Danielle acts as the Marketing Director for Health Systems at Quest Diagnostics, the national leader of diagnostic testing. She served on the Board of Directors of the Capital Area American Red Cross and the Tallahassee Senior Center Foundation as well as Outreach Chair for Girls on the Run of the Big Bend. She is a graduate of Leadership Tallahassee Class 34 and regularly volunteers at local schools. She is married to Russ Buchanan, and they have two sons.
Jimmy Cole

University Relations, Florida State University

Jimmy Cole manages the engagement of university stakeholders through partnerships, boards, events, and other activities. During the past ten years, he has also worked extensively with community and university fundraising groups. He is active in the community, serving in leadership and volunteer roles for multiple education and direct service organizations.

Brian Crumbaker

Shareholder, Greenberg Traurig, P.A.
Brian is a shareholder with the international law firm, Greenberg Traurig, P.A.  His practice, national in scope, focuses on the representation of corporate trust companies and high-yield fixed income funds on matters involving distressed tax-exempt bonds, including those issued for land development, non-profit, and eligible for-profit purposes.  Recognized nationally for his experience on such matters, Brian has presented to industry professionals at conferences conducted by, among others, the National Association of Bond Lawyers, National Federation of Municipal Analysts, and The Bond Buyer. 
John Dailey


Mayor, City of Tallahassee
Mayor Dailey has dedicated his professional life to building strong, vibrant communities. He has had public service in his sights his entire life. As the son of Dr. John Scott Dailey, the former Executive Director of the Florida Institute of Government and a former two-term Leon County School Board Member, John could not have had a better role model to learn the value of just how effective quality leadership in government can be for our community.
He began his professional career working for the Florida League of Cities representing over 400 municipal governments before the Florida Legislature and Administration. He also represented municipal governments across the nation before the U.S. Congress and Administration while working for the National League of Cities in Washington, D.C.
John received his bachelor's degree in Political Science from Florida State University where he served as President of the Student Government Association. He received his first master's degree in Public Administration from FSU and went on to receive a second master's degree in Urban and Regional Planning from the London School of Economics while serving as an Aide to Roger Casale (Labour – Wimbledon) in the British Parliament.
John returned to Tallahassee in 2005 and founded JDA Strategies, a research and development consulting firm focused on local governance. In 2006, he was elected to the Leon County Commission by the citizens of District Three and was re-elected twice without opposition. He served as Chairman of the Leon County Commission twice (2010-2011, 2016-2017). John is a graduate of Leadership Tallahassee and Leadership Florida.
John was elected Mayor of the City of Tallahassee in 2018. John and his wife Virginia have two young boys, Tommy and Henry.
Kathleen Daly

Vice President, University Relations, FSU

As Associate Vice President for University Relations, Kathleen Daly directs the Florida State University offices of University Communications, Opening Nights Performing Arts, and Governmental Relations, as well as University Relations' management of the University President's venues and events, and meetings of the Florida State University Board of Trustees.
Prior to her current position, Ms. Daly served as Associate Vice President for Governmental Relations, managing the University's interactions with all levels of state government.
Before joining Florida State University, Ms. Daly was the Chief Legislative Assistant to a member of the Florida House of Representatives who rose to the position of Speaker of the House.
Ms. Daly is a graduate of the Florida State University College of Communication and Information.
Jimmie L. Davis, Jr.

Principal Software System Engineer, The MITRE Corporation
Dr. Davis serves as a Principal Engineer for The MITRE Corporation, a not-for-profit organization that manages federally funded research centers for the Department of Defense, the Federal Aviation Administration and the Internal Revenue Service. His research interests include GPS, information assurance and wireless networks. He currently leads a cohort of engineers on a technology based Assured Position, Navigation, and Timing effort for the United States Army. Dr. Davis is the former volunteer chair of the board and President of STEMflorida, Inc. He holds a Doctor of Engineering and an M.S. in Electrical Engineering from the University of Massachusetts Lowell, a M.S. in Applied Mathematics and a B.S. of Electrical Engineering from The Georgia Institute of Technology and a B.S. in Math and Physics from Morehouse College. He has more than 30 years of experience in Science, Technology, Engineering, and Mathematics (STEM) and 19+ of those years with MITRE.
April Dietz
Consultant for ISF, Inc.
April Dietz has 10 years of experience in project management and strategic communications with expertise in the healthcare and information technology industries. She has managed all aspects of strategy, change management, public relations, community outreach, branding, budget and policy, from development to implementation. Currently, April serves the community in her role as Consultant for ISF, Inc. (f/k/a Information Systems of Florida). Prior to joining ISF, she led projects at the Florida Department of Economic Opportunity and managed all aspects of communications strategy and branding for the Tallahassee Orthopedic Clinic. April holds a Master's in Business Administration and a Bachelor of Science in Marketing and Advertising from Florida Gulf Coast University. She is an advocate for children with unique abilities. April sits on the board for KEYS (Keys to Exceptional Youth Success), is appointed to the Commission on the Status of Women and Girls, and is a member of The Economic Club of Florida, Leadership Tallahassee, Independence Landing, and the Gilchrist Elementary School Parent Teacher Organization. April has two daughters (Emma and Isabelle) who inspire her every day.
Allie Merzer Fleming

Project Manager, StarMetro/City of Tallahassee

Since moving to the Capital City in 2000, Allie has served as spokesperson for several statewide organizations and political campaigns, including the Florida Democratic Party, and worked for powerful entities such as The Greater Tallahassee Chamber of Commerce and Ron Sachs Media Group. In her various roles she has coordinated numerous advertising and marketing campaigns, held statewide and national press conferences and organized events of various scales including conferences, charity dinners and expos. In addition, she owned and operated The Fleming Agency and Good Friends Group Fitness, giving her the unique perspective of sole-proprietorship and service-oriented management. Allie currently serves as Project Manager for StarMetro.  Allie holds a BA from American University, an MA from University of York, England and is struggling to earn her PhD in "working-mother-of-two" with an emphasis on keeping her head above water and her humor intact.
J. Murray Gibson

Dean, FAMU-FSU College of Engineering

J. Murray Gibson was appointed Dean of the FAMU/FSU College of Engineering July 1st 2016. Previously he served five years as the Founding Dean of the Northeastern University College of Science where he developed the foundational strategic plan working hand in hand with faculty, staff, students, other deans and external stakeholders. The plan became the blueprint for the hiring of more than 40 tenured/tenure-track faculty, including 10 joint appointments with other colleges. He managed a 50% increase both in the College's research funding and its undergraduate enrollment, the latter simultaneous with a substantial improvement in the quality of incoming undergraduates (an increase of 100 SAT points in five years).
As Director of the Advanced Photon Source (APS) at Argonne National Laboratory in Chicago between 2001 and 2010, Gibson developed the billion-dollar synchrotron x-ray source into the Western Hemisphere's largest scientific user facility (based on the number of users and publication output). His success was contingent on working to bring together academic and government stakeholders and ensure that creative experimentation was facilitated.
Before joining Argonne as the Director of the Materials Science Division in 1998, Gibson spent seven years as a Professor in the College of Engineering at the University of Illinois in Urbana-Champaign. Gibson began his career at IBM Research, and then moved on to Bell Laboratories where he led the Electronic and Photonic Materials Research Department in Murray Hill, NJ.
Gibson holds a PhD in Physics from the University of Cambridge in England, and researches in Materials Science and Engineering. He has developed advanced microscopy and diffraction techniques to study structure at the atomic scale in materials, and to illuminate the relationship of important materials properties to structure. He has published over 200 journal papers, has five patents and has over 17,000 citations to his published work. In his spare time he loves playing the piano, and has written, lectured and performed the "Physics of the Blues" which aims to illuminate the intimate connections between art and science.
Ron Greenstein

President, The Greenstein Group

Ron Greenstein is a highly respected and successful governmental affairs consultant that is active in both state and local politics.  He is routinely consulted for advice and assistance from candidates and elected officials at the local level as well as legislative and state cabinet levels, and has long-lasting professional relationships with policy makers, lawmakers and regulators.  Greenstein served as Mayor of the City of Coconut Creek for 10 years.  He served as a legislator in the Florida House of Representatives for 8 years.  As a state legislator, he developed an expertise in the state budget process and was respected for his ability to transcend partisan politics to achieve consensus and results.  Greenstein served as a special consultant to the Florida House of Representatives under Speaker Marco Rubio for several years after terming out of office.  In this role, he instructed and advised newly elected legislators on the state appropriations and legislative processes.  Greenstein has remained active in local government matters as well, including consulting for the Florida League of Cities, serving as Executive Director of the Broward Resource Recovery Board and on the Airport Advisory Board for the City of Tallahassee.  His client base covers a broad range of issues, including land, residential and commercial development; health care; utilities; water supply; solid waste and recycling; retain; and gaming.

Brooke Hallock


Chief Brand Officer, Capital City Bank

Brooke Hallock joined Capital City Bank in 2004. As Chief Brand Officer, she is the keeper and promoter of the star. During her career at Capital City Bank, Brooke has served as public relations manager and marketing director. She oversees the Capital City brand, including advertising, internal and external communications, public relations, philanthropy and client service projects.
A graduate of Florida State University with a bachelor's degree in public relations, she serves on boards for the Challenger Learning Center, the United Way of the Big Bend and Big Bend Hospice Foundation. She is a graduate of Leadership Florida Class 33, Leadership Tallahassee Class 27 and a member of Tiger Bay. In 2013, Brooke was selected among an elite group of dedicated community leaders to receive the distinction of the Tallahassee Democrat's "25 Women You Need To Know."
Alan Hanstein

President, Paragon New Media

Alan Hanstein is past chair president and chair of the development committee of the Challenger Learning Center board of directors.  As president and founder of Paragon New Media, recognized as one of the first companies to provide online services for event promotion and registration, Mr. Hanstein has generated more than $20 million in online registration revenue and pioneered technology that has become the industry standard.  He is an active community member, serving in leadership positions for several charitable and economic organizations.
Jack Kane

Senior Vice President, Smart Bank 
Jack D. Kane is the Regional President/Tallahassee for PeoplesSouth Bank, a 30 bank holding company with assets of $700MM, based in S. Georgia. Jack has been active in the Tallahassee business community for over 30 years. He is a graduate of Leadership Tallahassee and is active in many professional and civic organizations. He is also Tallahassee native and a graduate of Florida State University.
Ken Kopczynski


President of the Tallahassee Astronomical Society
Ken is a master observer having completed at least 10 observing programs offered by the Astronomical League for amateur astronomers. He most enjoys sharing his knowledge of the sky with others. Mr. Kopczynski writes the monthly Sky Guy column for the Tallahassee Democrat.
Danny Langston

CEO, Flightline Group Inc.

Danny Langston is Chief Executive Officer of Flightline Group, Inc. a regional aviation sales and service company founded in 1982. The company provides Technical Services, Avionics, Parts, Aircraft Sales and Airport Facility Development. Flightline is the Southeast Dealer for Piper Aircraft and Quest Aircraft. Mr. Langston is also a Managing Partner at Red Hills Powersports, a dealership for Honda, Yamaha, Kawasaki, Suzuki, Indian and Slingshot products. He is a Florida native and graduate of Tallahassee Community College and Florida State University.
Giselle Sherry-Marsh


Director K-12 School Improvement, Accountability, and Testing
Giselle Marsh enjoys serving as the Director for K-12 School Improvement, Accountability, and Testing for Leon County Schools in Tallahassee, Florida. In her second year as director, Mrs. Marsh is the liaison between the Department of Education and schools in differentiated accountability status.  In addition, Mrs. Marsh works with schools to disaggregated state testing data and review strategies to support school improvement efforts. Mrs. Marsh's responsibilities also include over sight of Title I, Title IV and Unified School Improvement grants. Her department also houses charter schools and instructional materials. As a former principal with a graduate degree in Educational Leadership and an undergraduate degree in Chemistry Education, Mrs. Marsh is passionate about student achievement and is excited to contribute to the Challenger Learning Center community.
Brian Welch
County Commissioner, District 4, Leon County Board of County Commissioners
Brian Welch was elected to the Leon County Commission in November of 2020 to represent the residents of Northeast Leon County in District 4. Brian's priorities are to protect the quality of life and property values of our NE neighborhoods. To provide adequate recreational and transportation infrastructure to the growing NE community, while also protecting our environment and keeping our communities safe.
Brian is a member of Leadership Tallahassee, Class 36 as well as serving on the board of the Foundation for Leon County Schools and the Centerville Conservation Community homeowners association from 2017-2020.
Brian has lived in NE Tallahassee since 1997 and has been a Social Studies teacher at Chiles High School since 2007. A diehard Timberwolf, Brian has served in many roles during his tenure at Chiles, including as the "Voice of the Timberwolves" football team, Key Club sponsor, Youth Leadership Tallahassee coordinator, Business Advisory Council coordinator and Vice President and Founding member of the Chiles High School Foundation. At Chiles, Brian has had the opportunity to lead many community service endeavors, including the March of Dimes men-in-labor program, the annual Wolf Dash 5k and numerous canned food drives benefitting Second Harvest.
Brian has had the pleasure of travelling the world with his students, leading six international educational tours, including trips to France, Italy, England, Ireland, Scotland, Wales, Australia and New Zealand, among others.
Brian received an Associate's degree from Tallahassee Community College in 1999. He received a Bachelor's degree in Political Science from the Florida State University in 2001, followed by a Master's degree in the renowned Applied American Politics and Policy (MAPP) program at FSU in 2003. Brian subsequently received an additional Master's degree in Educational Leadership from the University of West Florida in 2016..
Carl Moore
Associate Professor, Mechanical Engineering, FAMU-FSU College of Engineering

Dr. Carl Moore is an associate professor at the FAMU-FSU College of Engineering. He earned his B.S. in Mechanical Engineering from Howard University and his M.S. and Ph.D. from Northwestern University. Dr. Moore worked for 3 years as a research engineer and as a manufacturing engineer for Eastman Kodak Company in the Copy Products and Single-Use Camera departments. He also has professional experience with Ford Motor Company's Interactive Conceptual Design and Applications lab. Dr. Moore was instrumental in the development of COBOT technology – a human-robot collaboration technology, and is a pioneer in mobile robot terrain classification research. His other research interests include robot design and control. 
Russell Perkins, CPA
Certified Public Accountant, Thomas Howell Ferguson, P.A. CPAs

Russell Perkins is a shareholder at Thomas Howell Ferguson P.A. CPAs with experience in providing accounting, auditing, dispute resolution, expert testimony, and consulting services to for-profit and not-for-profit entities. Mr. Perkins also leads the firm's employee benefit plan audit practice. Mr. Perkins received his B.S. degree from the University of Florida and his Master's degree from Florida State University.
Emily Pritchard

Research Faculty, Department of Biomedical Sciences at the Florida State University College of Medicine
As a biomedical engineer with expertise in medical device design especially sensing, and imaging, she works with faculty, tech startups, and students to innovate and translate new technologies and research to improve health and quality of life. Her own research explores new imaging and treatments for vascular disease and movement disorders, and she is conducting studies in collaboration with Tallahassee Memorial Hospital and the Mayo Clinic. Dr. Pritchard is also a Faculty Associate of the Jim Moran School of Entrepreneurship, faculty affiliate of the FSU Institute for Successful Longevity, and co-founded International Genetically Engineered Machine team at FSU in 2017. She is an advocate for human-centered design and an interdisciplinary, inclusive approach to innovation and science education.
Dr. Pritchard completed her Ph.D. in Biomedical Engineering at the University of Tennessee, Knoxville, and has conducted research at Cornell Nanoscale Facility and the Oak Ridge National Laboratory. Through her private consulting firm, Dr. Pritchard has raised over $5.7M in funding for technology development from both federal and private sources spanning 6 universities and 11 start-ups.
Since moving to Tallahassee in 2012, Dr. Pritchard has supported many initiatives in both arts and sciences. She is currently involved with local non-profits including The Sharing Tree, Moonshot Florida, PEO International, the IEEE Tallahassee Area Section, and the North Florida regional VEX Robotics competition. She enjoys playing Celtic fiddle and getting outside hiking, camping, biking with her husband and two kids.
Nancy Rosenbaum

5th Grade Science Teacher at Florida State University Schools
Nancy Rosenbaum is a 5th Grade Science Teacher at Florida State University Schools (FSUS). She received her bachelor's degree in Elementary Education and a masters degree in Early Childhood Education, both from Florida State University, and has been teaching since fall 2006. As a passionate science educator, Nancy is involved with the National Science Teachers Association as a manuscript reviewer for the professional journal Science and Children, a member of Delta Kappa Gamma – International Society for Key Women Educators, the chair of the Elementary Science Committee at FSUS, co-creator of the STEMinoles Summer Camp at FSUS, and holds the rank of University Schools Associate Professor. Nancy was honored as the 2014 and 2017 Florida State University Schools Elementary Teacher of the Year, was accepted to and attend the 2011 Mickelson ExxonMobil National Teachers Academy, and was the recipient of the 2018 June Scobee Rodgers Innovative Educator Award, presented by the Challenger Center.
Floyd R. Self

Partner, Berger Singerman LLP

Floyd R. Self has been a member of the Challenger Learning Center Board since 2004 and is a past Board Chair.  He is a Board Certified State and Federal Government and Administrative Practice attorney and an equity partner with the Florida business law firm of Berger Singerman LLP.  His diverse practice includes the energy, telecommunications, water, and technology sectors before state and local governments and regulatory agencies in Florida and the southeast.  He is a board member for the national Energy Bar Association, and he serves as the Southern Region Training Chair for the National Youth Leadership Training program of the Boy Scouts.  He is a frequent speaker and facilitator for leadership and team building programs as a community volunteer for the Boy Scouts, Leadership Tallahassee, and Grace Lutheran Church.
MaryRose Sirianni

External Affairs Manager, AT&T

MaryRose Sirianni serves as an External Affairs Manager for AT&T working with legislative teams to develop and implement sound legislative and regulatory strategies and policies; lobbying legislative, state government staff and community stakeholders on federal, state and local issues in Florida, Puerto Rico and USVI.  She has 28+ years' experience in telecommunications policy, regulatory and legal affairs, internal and external relations, and visionary programs for community involvement, with 18 of those with AT&T.  In addition to her involvement with the Challenger Learning Center, she is involved in various community organizations including Leadership Tallahassee, the Tallahassee Chamber of Commerce, and a leader with Big Brothers Big Sisters of the Big Bend.  Ms. Sirianni holds a BS in Mineral Processing Engineering from West Virginia University and an MBA from FSU.
Jamie Van Pelt

President of ESPMedia Co.
Jamie Van Pelt is the President of ESPMedia Co. where he specializes in all manner of messaging and public relations. With years of experience in the government and political realms, Jamie is adept in brand-building, crisis communication, social and traditional media messaging, and coalition-building. He is the former Chief of Staff and Communications Director for Tallahassee Mayor Andrew Gillum. In his role with the Mayor's office, Jamie spearheaded community initiatives like the Longest Table, Tallahassee Forward, and Family First Week, and as Director of Governmental Affairs, he managed the City's legislative efforts both at the state and federal levels. Active in the local community, Jamie is a graduate of Leadership Tallahassee Class 34, a member of various professional organizations, and serves on numerous boards. Jamie is a two-time graduate of Western Carolina University with a Bachelor's in Political Science and a Master's of Public Administration.
Allison Tant

Florida House of Representatives, District 9
Representative Allison Tant currently serves as the Representative of District 9 in the Florida House of Representatives. A native Floridian, she was born in Jacksonville and graduated from Florida State University in 1983.
Prior to being elected in November of 2020 to the Florida House of Representatives, Representative Tant worked on President Barack Obama's 2008 campaign, where she became one of the campaign's first community organizers. She served on President Obama's Victory Trustee Committee and chaired the Northwest Florida Finance Council of the Obama re-election campaign. In addition, Representative Tant served as State Chair of the Florida Democratic Party from 2013 through 2017. As State Chair, she set fundraising records and built a vibrant party with a dedicated professional staff and strong volunteer base.
Along with being a State Representative, Representative Tant is the Anti-Defamation League of Florida's regional representative. She is also an active member of the Tallahassee Rotary Club, Capital Women's Network, Tiger Bay, and Temple Israel's Social Action Committee. In 2013, she was inducted into the Tallahassee Democrat's 25 Women You Need to Know. She has served as president, treasurer and advocacy chair of the Children's Home Society in Tallahassee, secretary of the Tallahassee Community College Foundation, chair of Holland & Knight's Opening Doors for Children fund, and board member of Big Brothers Big Sisters. She is a former member of the Leon County Schools Exceptional Student Education Advisory Committee and District Advisory Committee.
Representative Tant also worked with Leon County Schools and Lively Technical College to found an acclaimed summer institute teaching life, social, and independence skills for 60 disabled young adults. Additionally, she founded KEYS (Keys to Exceptional Youth Success), a scholarship program for students with disabilities. The organization provided instructional supplies to students, endowed a scholarship at Tallahassee Community College (TCC) for students with disabilities and worked with TCC's Board of Trustees to create Eagle Connections, a college curriculum for students with cognitive disabilities. Furthermore, Representative Tant helped launch Tallahassee's Independence Landing, an innovative, exciting, and affordable housing option for adults with a range of cognitive and physical disabilities.