Perfect Little Planet
PG | 40 min. | Educational Planetarium Show
Periodically on show schedule; available for group bookings
Imagine the ultimate space vacation! Discover our solar system through a new set of eyes – a family from another star system seeking the perfect vacation spot. Fly over the surface of Pluto, our best known Dwarf Planet. Dive over the ice cliffs of Miranda. Sail through the rings of Saturn. Feel the lightning storms of Jupiter. And walk on the surface of Mars. Which destination would you choose? A solar system journey for space travelers of all ages. 

This program sponsored in part through COCA's Cultural Grant Program funded by the City of Tallahassee and Leon County. Your ticket purchase supports the Challenger Learning Center's community outreach and educational programming.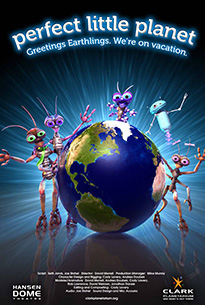 Open from 10am to 10pm

12pm to 10pm Sundays
Closed Thanksgiving Day and Christmas Day
The Challenger Learning Center is located on the beautiful Kleman Plaza in Downtown Tallahassee.