One World One Sky
PG | 40 min. | Educational Planetarium Show
Periodically on show schedule; available for group bookings
One World, One Sky: Big Bird's Adventure begins on Sesame Street when Elmo's friend, Hu Hu Zhu, visits from China. Together, Big Bird, Elmo and Hu Hu Zhu locate the Big Dipper, the North Star and the Moon in the night sky. Elmo and Hu Hu Zhu want to learn more about the Moon, so Big Bird suggests that they use their imagination to travel there. Once on the Moon, Elmo and Hu Hu Zhu quickly learn that the Moon has a very different environment than Earth. They discover there is no air on the Moon and learn that without air there can be no trees, animals, flowers or, to their disappointment, flying kites or playing soccer. Realizing this makes them homesick, so they use their imagination to take them back to Sesame Street. Back on Earth, Big Bird, Elmo and Hu Hu Zhu realize that even though they live in two different countries, they still share the same sky.

This program sponsored in part through COCA's Cultural Grant Program funded by the City of Tallahassee and Leon County. Your ticket purchase supports the Challenger Learning Center's community outreach and educational programming.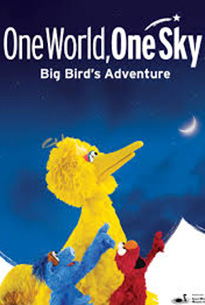 Open from 10am to 10pm

12pm to 10pm Sundays
Closed Thanksgiving Day and Christmas Day
The Challenger Learning Center is located on the beautiful Kleman Plaza in Downtown Tallahassee.