In My Backyard
PG | 40 min. | Educational Planetarium Show
Periodically on show schedule; available for group bookings
Children's entertainer Fred Penner narrates and sings for this lively journey into his backyard, where we discover all sorts of things – colors of the rainbow, bugs and spiders, the different seasons, the planets, the Moon, and the stars in the nighttime sky. From the Calgary Science Centre; digitized and converted by fulldome by Ward Beecher Planetarium. The interaction in this program makes it suitable for young children; they are encouraged to call for Arnie, one of the major "characters," and to clap and sing.

This program sponsored in part through COCA's Cultural Grant Program funded by the City of Tallahassee and Leon County. Your ticket purchase supports the Challenger Learning Center's community outreach and educational programming.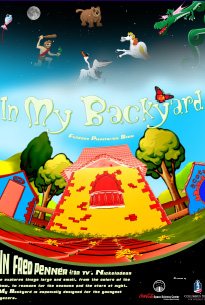 Open from 10am to 10pm

12pm to 10pm Sundays
Closed Thanksgiving Day and Christmas Day
The Challenger Learning Center is located on the beautiful Kleman Plaza in Downtown Tallahassee.