Born to be Wild 3D
IMAX® 3D | PG | 40 min. | Educational Documentary
Periodically on show schedule; available for group bookings
Morgan Freeman narrates this documentary about two dedicated animal preservationists. Daphne Sheldrick has created an elephant sanctuary in Kenya, while Dr. Biruté Mary Galdikas has set up an orphanage for orangutans in Borneo. In both cases, the young animals have been left alone after their parents were killed, by either poachers or similar human incursions into their natural habitats. Viewers get to see the animals nurtured with love and care before they are introduced back into the wild.
This program sponsored in part through COCA's Cultural Grant Program funded by the City of Tallahassee and Leon County.
  Your ticket purchase supports the Challenger Learning Center's community outreach and educational programming.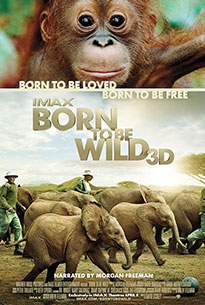 Open from 10am to 10pm

12pm to 10pm Sundays
Closed Thanksgiving Day and Christmas Day
The Challenger Learning Center is located on the beautiful Kleman Plaza in Downtown Tallahassee.