Amazon Adventure 3D
IMAX® 3D | PG | 40 min. | Educational Documentary
Periodically on show schedule; available for group bookings
Amazon Adventure tells the epic, true story of Henry Bates, the son of a sock maker, who risked his life in the perilous Amazon in the 1850's and discovered the "beautiful proof" for the greatest explanation ever put forward for the development of life on earth.
Pulled out of school in Leicester at the age of 13 to apprentice in a hosiery factory, Bates loved nature, was an avid beetle collector with an insatiable curiosity and detective-like mind. A voracious reader, he taught himself several languages, taxonomy and was a gifted singer, guitarist and illustrator and by 17, had his first science article published. Motivated by his thirst for more knowledge and unable to be contained by his factory town, Bates set sail with his friend Alfred Wallace, in their early twenties, on the adventure of a lifetime across the ocean to the Amazon rainforest and a burning quest to prove if species change.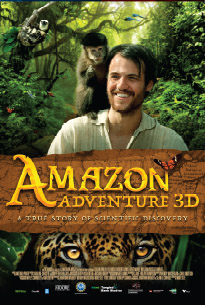 Open from 10am to 10pm

12pm to 10pm Sundays
Closed Thanksgiving Day and Christmas Day
The Challenger Learning Center is located on the beautiful Kleman Plaza in Downtown Tallahassee.