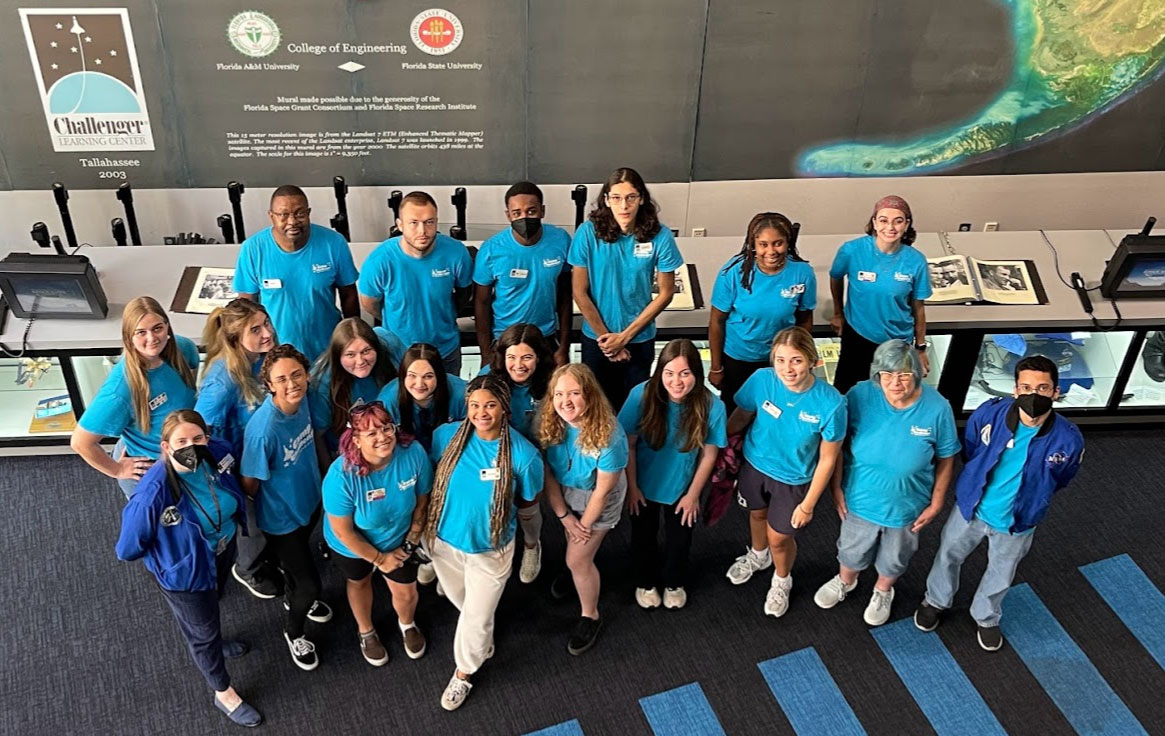 EDUCATION TEAM
Our education staff is comprised of teachers, professionals with an extensive STEM background and/or individuals experienced with child care or best practices in education. We are the K-12 educational outreach facility of the Florida A&M–Florida State University College of Engineering and serve over 60,000 students each year from FL, GA and AL. We are experts in informal education and creating positive, lasting learning experiences to motivate students to pursue higher education and careers in STEM fields.
Education Managers
William Figueroa first joined the Challenger Learning Center as a part-time Education Staff member in February 2014 before rising to the part of Education Manager. He is certified to teach in both Georgia and Florida, previously teaching science classes at CA Gray Jr. High and Thomas County Middle School. As a Leon County Schools teacher, William also serves as the liaison for the Challenger Learning Center to Leon County Schools.
During the Covid-19 pandemic, William programmed and designed the virtual mission "Europa Encounter" that was used nationwide, from Alaska, Maine, Massachusetts, Illinois, Indiana, New Mexico, and Texas. He has also developed and led various camps for Camp Challenger and education programs taught on site at Leon and Hamilton County. Native from Puerto Rico, he is bilingual in English and Spanish and has a degree in Middle Grades Science and Social Studies.
Jordan Doucette joined the Challenger Learning Center in August 2021. After living in Wisconsin, Massachusetts, and Oklahoma, she graduated with a Bachelor of Science Degree from the University of North Texas. She then moved on to teach Elementary public-school education in Oklahoma City and surrounding areas.
Jordan attributes her devotion for education to her family, who are also involved in the public educational field. She has taught STEAM Education through summer camps and educational programs designed to reach underfunded communities in Oklahoma. The first class Jordan taught was an Astronomy class and is what drove her to become an educator. Her passion for Astronomy shines here at the Challenger Learning Center. Jordan serves as our education and outreach liaison for the Challenger Learning Center and its neighboring communities.
She loves to spend time with her family, which includes her pets that are named after astronomers and astronauts. (Tycho, Hubble, Mae Jemison, and Buzz).
Flight Directors
Kelsey Morris is pursuing her B.S. in Behavioral Neuroscience with Minors in Chemistry and Sociology from Florida State University. Kelsey works with students in grades K-8 and enjoys sharing her passion for science with students, encouraging them to be curious and creative in their explorations.
Science Communicators
Lloyd Wheeler is an aviator who started flying in the 1960s. Lloyd holds several professional flight certificates. Lloyd worked at the Challenger Learning Center when it first opened, running space mission simulations and planetarium shows. He is back at the center doing science demonstrations for K-12 groups and enjoys showing our visitors how much fun science can be.
After having spent many years working with high school students in the classroom, Ms. Cyndy has decided to share her love of science to a younger generation. She brings with her the experience of coaching teams of students as they participated in various science and engineering competitions such as FIRST robotics, TEAMS Competition, National Rocketry Competition, Science Fair, and numerous local competitions hosted by FSU. She looks forward to inspiring the next generation of amazing scientists and engineers.
Daniel Garcia is currently double majoring in Astrophysics and Applied Math with a goal of doing research in relativity. As a high school student in Panama, Daniel knew he wanted to teach science thanks to the inspiration from one of his teachers. Daniel is bilingual and is excited to create future engineers at the Challenger Learning Center.
STEAM Educators
Daniel Allison received a M.S. degree from Florida State University in Meteorology. He enjoys working with students in grades K-8 at the Challenger Learning Center doing various educational programs, including space mission simulations, field trips, off-site programs and summer camps. He has over 10 years of formal and informal teaching experience, and has also taught middle and high school students at North Florida Christian School in Tallahassee. Each day, Daniel shares his passion for science with students of all ages visiting the Challenger Learning Center, and loves seeing the excitement and "light bulb" moment on students' faces.
Rayana Hughes is currently pursuing a Masters Degree in Elementary Education at FSU. She works primarily with K-1 at Camp Challenger, but has experience working with other ages. She enjoys spending her time reading and writing or exploring outdoors. She is excited to see the campers light up as they acquire new skills.
Jessica Stanton is currently pursuing a Masters Degree in Secondary English Education. She mainly works with 6-8 at Camp Challenger, but has had numerous experiences with other age groups. Her goal of teaching English as a language abroad has lead her to explore and experience aspects of other cultures. She is open to all forms of education and hopes to impart that knowledge onto the children she teaches.
Makyla Jones is an English Education major at Florida A&M University. She loves working to inspire and challenge young minds at the Challenger Learning Center.
Debra Eggebraaten received a BA in Biological Science with minor in chemistry from Florida State University. She taught high school biology, chemistry and physics for four years, including significant involvement in science and health fairs, in the 1980s. She later received a post-bachelors certification in computer science from North Carolina State University and pursued a career in computer training and support until her retirement from the State of Florida in 2019. Debra is excited to work with children to develop their love of science, since children are our future.
Wallace Grinager has been around the world while deployed as a combat engineer and logistician in the military and is currently serving as an Army Reservist while studying Mechanical Engineering. Wallace will use his degree to fly helicopters and solve real world problems, like developing better technology for the planet. He loves working with kids since his time coaching wrestling and believes in inspiring kids to learn and be curious about the world. Inspiring students helps future generations solve the problems of tomorrow and become the engineers Wallace will be working with down the road.
Lisa Kraut is a K-1 teacher in Leon County. She has a Bachelors Degree in Early Childhood Education and a Masters in Curriculum and Instruction, both from Florida State University. Lisa has experience in teaching pre-kindergarten-4th grade in Leon County and Gadsden County. She has been at Challenger for seven years and has worked with students pre-kindergarten-8th grade. She enjoys sparking an interest in STEAM for young children. Her favorite subjects are math, science and music and she enjoys serving as the Mini Mu sponsor at her school.